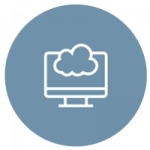 The Cloud is here to stay, and now is the time to start your journey into this technology.
Cloud Solutions for your Business
Trends come and go, but revolutions stand the test of time. The Cloud is here to stay, and now is the time to start your journey into this technology.
"Cloud Computing" refers generally to the delivery of hosted services over the Internet and encompasses an almost endless set of business possibilities: from server and file hosting to application hosting and end user computing. It has begun, and will continue to transform how organisations do business. The Cloud enables business to become more flexible and mobile and helps to relinquish some of the burden of IT systems' management.
alltasksIT's @Cloud Solutions can help your business transition to the Cloud – whether it be your entire IT operations (if suitable) or in a staged, or hybrid mode – with management and support offerings to ensure your users and business remain productive.
Let us guide you through the Office 365 journey
Office 365 is a powerful tool for businesses of all sizes, but with the large range of products and services within the Office 365 range, it can be difficult to determine which plan is best for your business, balancing features with performance and budget. alltasksIT is here to help you select the Office 365 plan that is best for you - and also help with the implementation of the software and ongoing support to ensure you get the most out of your Office 365 plan.
alltasksIT have an expert team of Microsoft certified technicians on hand to assist with any query you may have, also to make suggestions on what else you can be doing to ensure you benefit from the full potential of this powerful software. Here are the most common ways we assist businesses with their Office 365 solution.
Consulting, planning and Product selection
Implementation assistance
Monintoring
Management and Maintenance
Help Desk
Read more about how Cloud Solutions can help you achieve your business goals.
Want to know a little more? Have a friendly alltasksIT staff member contact you.