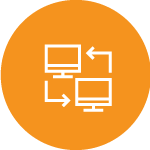 What will Managed Services do for your organisation?
Here are just a handful of ways our Managed Services can assist with your IT requirements
Increase IT equipment uptime and longevity
Increase staff productivity
Reduce stress
Reduce costs
Free you up to get on with business oriented tasks
Secure your systems and data
Improve your customer service
Server & PC Management
Patch management and upgrades (to secure your IT systems)
Monitoring server stability
Monitoring server performance
System log monitoring (errors reviewed and actioned)
Hardware monitoring
Backups & Disaster Recovery
Monitor and review backup jobs
Routine disaster recovery tests
Disaster recovery planning
Online backup
IT Security Management
Virus definition updates & monitoring
Spam filtering setup and monitoring
Data protection & reliability
Spyware detection and removal
Security log monitoring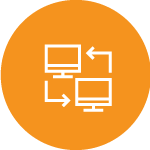 Network management
Network management (monitoring that your network is up and running)
Network optimisation (LAN & WAN) – identify excessive usage
UPS management
Setup backups and monitor IT
New software and hardware installation
Routers and firewall management
Asset Management
What systems are in use (hardware audits)
What licensing is in use (assists with licensing reviews)
Desktop policy enforcement
Other
Monthly or weekly executive summary reports
Full help desk ready to assist your users
Maintain disaster recovery policies & procedures
Computer system monitoring
Any questions? Send us an enquiry today.