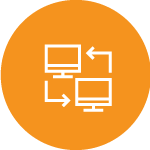 Business Continuity is important
Business Continuity does not simply refer to what will happen at the time of disaster for your business, but to the activities your organisation puts in place on a daily basis to ensure you can recover. From daily backups, to disaster recovery, business continuity planning is vital in ensuring you can continue to serve your customers and maintain regulatory compliance.
Events that affect the running of a business
Employee deletes critical data that the business needs to run

If one of your employees accidently deletes a valuable company asset like a database, you want to be able to restore this file in the quickest manner.

Server Host Failure

What impact will the business have when one of your physical servers fails, is the server under warranty, how long will the vendor come out and repair and can you failover to another server. VMware High Available is one solution that can keep your business operating in the event of a server host failure.

Server Room Damage, Fire or Flooding

What is your plan if your server room has been complete shutdown? Do you have a disaster recovery solution in place? How long can you business operate without access to your system?

Power Failure

Power failure to the site would cause the servers to become unavailable if the length of time was more than a few minutes. When & if this occurred, the servers would be shut-down by the UPS software. Solutions to this problem may include a backup generator. A generator configuration is recommended if the the business requires IT system 24*7 and or site suffers from known power issues.

Network Switch Failure

One switch failure can cause many companies IT systems to grind to a hault, best practises should include backup switches or redundant switches including dual power supply.

Storage Failure

These are extremely rare, there is so much redundancy built into these devices that the chances of these happening are reduces. In any event, it should be at least considered what the impact to the business would be if this was to fail. If all Virtual Servers are running on a single SAN, if this were to fail, then the 2-4 Hour Resolution warranty would becoming essential & steps would be taken to bring servers up in a Disaster environment in case warranty wasn't able to resolve.

There are several options to protect against this scenario or potential disaster:
Replicate to a second SAN
Server based backups to secondary storage

Data corruption

Databases have been knows to get corrupt upon server or storage failures, the software vendor may be called in to assist if this event was to occur otherwise restoring from the most recent backup will be the only resolution. Some solutions to reduce this risk include database replication.

Server Operating System Corruption

An image based backup copy of the operating system will be required In the event of an operating system corruption.

UPS Failure

Adding another UPS to the Server configuration would help to add resilience & protect better against a UPS failure. In our experience, the warranty for the UPS Devices is generally a few days, & if your device were to fail, you would potentially be unprotected against a power failure for a few days, or reliant on sourcing a replacement or loan device.

Internet or Router Failure

Do you rely on internet for email, orders or hosted applications? What will happen if your internet service fails for an extended period? A secondary link and backup routers might be the answer if this is an issue to your business.
With the spread of cloud services, Internet connections are more important than ever.

WAN failure

Do you branch or remote users rely on your WAN to connect to your systems and applications? Talk to your WAN provider about increasing the reliability of your service.
Read more about how alltasksIT can help you maintain your business continuity.
Want to know a little more? Have a friendly alltasksIT staff member contact you.