Online collaboration has many business benefits. Whether you're a two person team or a multi-national organisation, being able to work on projects together from different places is a real plus.
Of course different companies will have their own ways of working and specific requirements for online collaboration, but we've picked out five tools below that we have found to be really useful.
Basecamp
Basecamp is not a new kid on the block. This online project collaboration tool started out in 2004 and boasts that over 8,000,000 projects have been managed using it in that time.
At the time of writing Basecamp is used by over 200,000 companies across the world to help them keep track of a range of projects. Whether you're outsourcing some copywriting work to a writer in another country, or have a large team of sales staff working on a presentation in different cities and time zones, Basecamp's features will provide everything you need.
There are too many features to list them all here, but we'll give you a little flavour below:
·

        

Collaborate on text documents in real-time
·

        

Get files back that you deleted in error
·

        

Get instant updates when someone finishes a certain task
·

        

Share your project schedule and holiday calendars with others involved in the project
·

        

Single-page projects ensure all your information is in one easy to access place
Dropbox
Dropbox is a cloud-based storage tool that lets you access your files from computers, phones and tablet devices. You can also share folders with customers, suppliers and colleagues – you're in control of who sees what.
For example, if you were an interior designer, you might want to upload some ideas to a Dropbox folder that your client can access instantly, no matter where they are.
It's also a great little tool for collaborating on text documents. Let's say you're preparing text for a brochure for your company but want to run it by your marketing manager, sales manager and design department first. You can upload your first draft to Dropbox and get people to leave their comments on the document when it's convenient for them to do so.
Dropbox provides peace of mind too even if you just work on your own. For example, what would happen if your hard drive crashed and you lost all the data on your PC? Keeping a copy securely in Dropbox may just save your skin when a deadline is approaching.
When you open a Dropbox account you get 2GB of space for free and can earn or buy more if and when you need it.
Google Drive
Google Drive offers up to 15GB of free storage for your photos, documents, videos etc. You can also work with Google Docs to save your documents as you type and share them with people you choose.
You can set up folders with certain permissions, so for example, you may want a client to only be able to view a proposal document, or want a supplier to be able to amend prices on a spreadsheet. As with Dropbox, you're in control of who sees what and how much or little they're able to do.
You can quickly drag and drop documents and other files into Google Drive where they'll be safely and securely stored for as long as you need them. You will need a Google account to use this service, which is also free to create.
GroupTweet
Social media collaboration is becoming more important. When tweets are being sent on behalf of a company for example, is it necessarily the right or best thing to do having just one person tweeting all the time?
For example, if you were a digital agency doing web design, development and online marketing, it's unlikely one person will be an expert in all these areas.
GroupTweet allows multiple contributors to tweet from the same Twitter account. This can either be done via the GroupTweet platform or a third party client such as Hootsuite. You can set one person to be the administrator so they can approve or deny every tweet a team member wants to send.
You can also configure GroupTweet so you get an email when someone has put a tweet in the queue for you to moderate. There's currently a smart scheduling option as well so you can approve multiple tweets at the same time and these will be tweeted at different intervals rather than all at once.
There are free and paid for versions of GroupTweet to suit different company budgets and requirements.
Trello
Trello is a free and very intuitive platform which is great for collaboration and to-do lists. You can set up lists for each day of the week for example and assign tasks within these to your colleagues or team members.
You can also let others comment on tasks and colour code them in order of priority, or just because certain colours remind you of certain things.
Trello also allows you to get email notifications when someone completes, moves, or comments on an individual task.
Best of all, Trello is completely free to use and you can also use it just for yourself as a reminder tool.
Plus 1 more late entry.  Projectmanager.com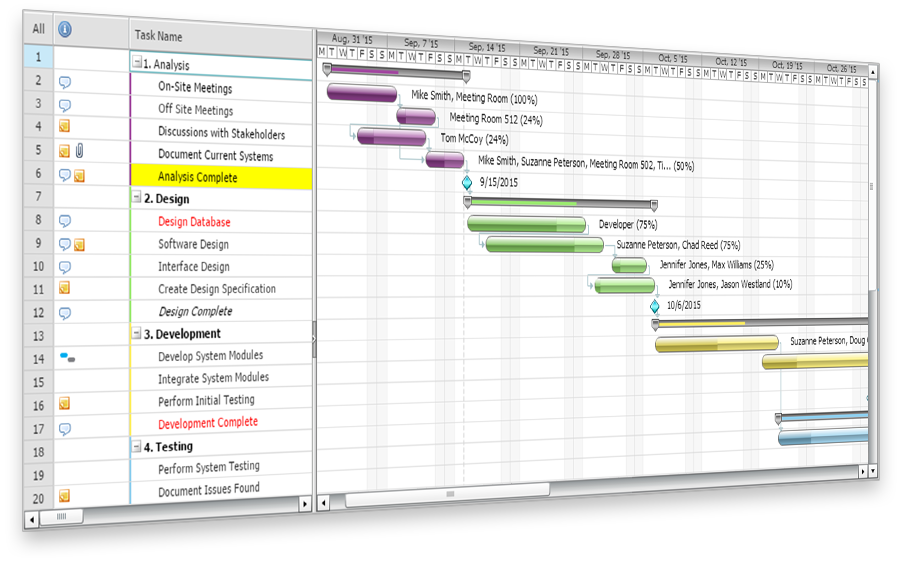 ProjectManager.com is an online project management software designed for teams who want the ability to collaborate across multiple portfolios and projects. Recently earning the #1 spot on GetApp's Project Portfolio Management Category Leaders, ProjectManager.com is a fully featured tool powerful enough for teams from 5 to 500 users.
The most popular of the features are the Gantt chart, task management, project dashboard, executive reporting, and workload management tools. The tools are designed to help both the managers and team members with the real-time dashboard overview of all projects, and smart tools that auto update when changes are made to a project.
ProjectManager.com's software is a monthly service which varies in price based on the amount of users in your account. The more users you have the less each user costs per month.
https://www.projectmanager.com
That completes our list of 5 online collaboration tools to benefit your business. Take a closer look at them to see if they can help you save time on your company's projects.