Secure storage, creative collaboration and communication on the cloud
Optimise business performance with our secure cloud solutions
Cloud computing refers to the delivery of computing services such as storage, processing, networking and software over the internet, rather than through local servers or personal devices. These services are typically provided on a pay-as-you-go basis, allowing businesses to scale their technology resources as needed without upfront investment. 
We offer a range of cloud computing solutions, enabling businesses to access the benefits of the cloud without the need for in-house infrastructure. 
Unlock the full potential of your business with our expert cloud solutions. Our expert team can recommend the best cloud subscription plan for your business, providing features to meet your goals and budget. Our consultants develop a technology plan, while Microsoft-certified technicians set up and maintain the software. The help desk supports you with any questions.
Why your business needs cloud-based computing
Secure storage to protect from hackers
Businesses rely on data to serve customers, deal with suppliers and comply with regulations. Our cloud services securely store your digital assets. In the event of a disaster or cyber attack, we provide cloud backup of your assets to recover data and provide peace of mind.
Collaborate with teams on projects and documents
On the cloud, multiple people can simultaneously work on a shared document or project. You can spark creativity, track the progress of projects and review accuracy all in a streamlined process. Enable cloud-based file editing and sharing to get everyone on the same page. 
Low costs and return on investment
When partly or entirely switching to the cloud, the cost is manageable. Particular cloud-based services enable predictable, regular smaller payment to avoid large payments on server hardware. This is a more viable investment. You can improve profitability by better managing IT costs with cloud computing.
Work anywhere from mobile devices
Connect your cloud-based work to portable devices such as mobile phones, tablets and laptop computers. Free yourself from the physical office. We can help set up mobile work tools for greater freedom and flexibility.
Scalable growth for profitability and success
When you can store your data and applications on a cloud, you can efficiently scale your business with ease. There is potentially unlimited capacity. Your business can back up more files, share more resources within your organisation and communicate with more people as it grows.
Efficient sustainable use of resources
alltasksIt experts recommend cloud-based technologies to improve efficiency. As far back as 2018, Microsoft revealed that their cloud-based technology was "as much as 93 per cent more energy efficient and as high as 98 per cent more carbon efficient" providing a smaller carbon footprint for your business.
Our consultants advise on strategies and tactical plans for the best solution to improve business success. We consult on how to use cloud computing in ways that fit your unique needs.
We plan the best ways to achieve strategic goals through cloud technology. This can include storing data, connecting communications channels and cyber risk mitigation strategies.
Our specialists advise on the best products and features to suit your unique needs and budget. We select the cloud-based solutions that will achieve results you need to succeed.
Our technicians will install and optimise your cloud-based programs. We implement online project-management tools, disaster recovery, data backups, cloud-based systems, virtualisation and file storage.
When you switch to Microsoft 365, we support you in moving your data and processes to this platform. We consider business continuity and also guide staff in how to access the relevant information.
We continually monitor for security risks and measure the efficiency of your cloud-based operations. Our technicians check to ensure your cloud-based systems run smoothly.
Management and maintenance
Our maintenance services are our proactive approach to prevent problems in advance and ensure secure streamlined performance. We manage the ongoing security needs and necessary changes.
Cloud-to-cloud migration (separating tenants)
You may need to move some data away from its current location and onto a different cloud-based storage. Our technicians can help for migrating the content in an organised efficient manner.
Cloud computing forms part of our managed services offering. This approach can be included in a comprehensive range of services to get all your technology optimised and working together.
Our local support team can answer questions and help you to solve problems whenever they arise by leveraging our extensive experience in cloud management.
Our cloud-based software services
alltasksIT provides services to plan, implement, monitor and improve a range of cloud-based software products. We aim to enhance collaboration, communication, processes, data storage, and your cyber security strategies.
Microsoft Teams is a collaboration platform that allows teams to chat, share files, and work on projects together. It integrates with other Microsoft apps and services, and provides a range of features that can improve communication and productivity within a team.
Microsoft 365 is a powerful suite of productivity software that includes Word, Excel, PowerPoint, Outlook, and much more. This cloud-based platform offers a wealth of advanced features and tools to help users create professional documents, analyse data, present information, and manage email and calendar tasks with ease. 
Microsoft's cloud platform combines integrated solutions including computing, storage, data, networking and apps. We migrate servers and applications to Azure while managing the applications for greater productivity.
Our servers are locally based in Melbourne, Australia to ensure your data stays within Australian borders.
Protect your organisation's valuable data with backup and storage on a secure remote server with a predictable fixed monthly fee.
Share data and applications between your on-premises data centre and a third-party public cloud.
This comprehensive cyber security program includes real-time antivirus, payments protection, performance utilisation, unlimited super-fast VPN and identity protection.
The Mushroom Group's cloud transformation
The Mushroom Group is a renowned institution in the Australian and New Zealand music and entertainment industries. 
With more than 35 brands across multiple states and countries, they needed to securely communicate, collaborate, and share resources efficiently from anywhere, at any time.
Explore how an alltasksIT cloud solution guided the Mushroom Group to free data from silos and empower these companies to collaborate as a united group.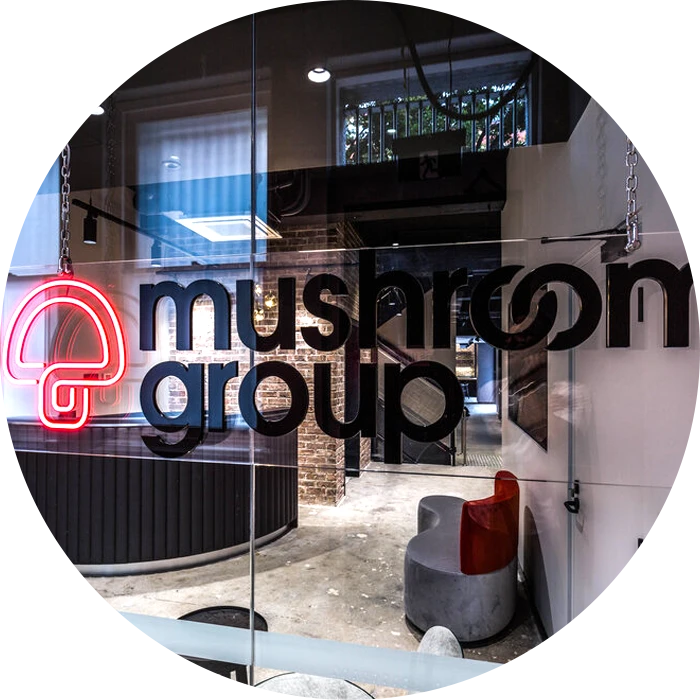 Frequently Asked Questions
Enquire now to ask us about optimising your organisation's cloud solutions