APPROVAL BASED WORKFLOWS
There are so many business processes where everything grinds to a halt as we wait for someone to provide their approval and before we can move to the next stage. Microsoft Flow is made to handle these situations, creating an easier way to receive and manage approvals.
Flow is a productivity service that can help streamline any approvals process for your business. Common examples include: annual leave requests, quote approvals, supplier invoice approvals, H&S policy updates and other document approvals such as budgets, contracts or specifications. The possibilities are unlimited.
Approval workflows can use any combination of applications or services
that you currently use.
Examples include SharePoint, Dynamics CRM, MYOB, Salesforce, MailChimp … and there's literally hundreds more
---
Watch an introduction to Microsoft Flow (1min 25sec)
Real Life Example
Starting the Approval process
Let's imagine that you manage your organisation's Twitter account and want to set up an approval process to automate proposed Tweets generated within your team. Team members can enter proposals into a SharePoint list and click to add a flow. Whenever a new proposal is added; an approval process is generated for the approver's attention.

Approve a request
The goal of these new approval experiences is to make it easier for approvers to quickly process their approval requests regardless of the device they are using or where they are.
As an approver you'll have the ability to approve and reject
directly from the web, mobile or your inbox,
enabling your team members to progress their work to the next stage.
When an approval request is assigned to you, you'll receive a notification with corresponding title, work details and links within the Flow.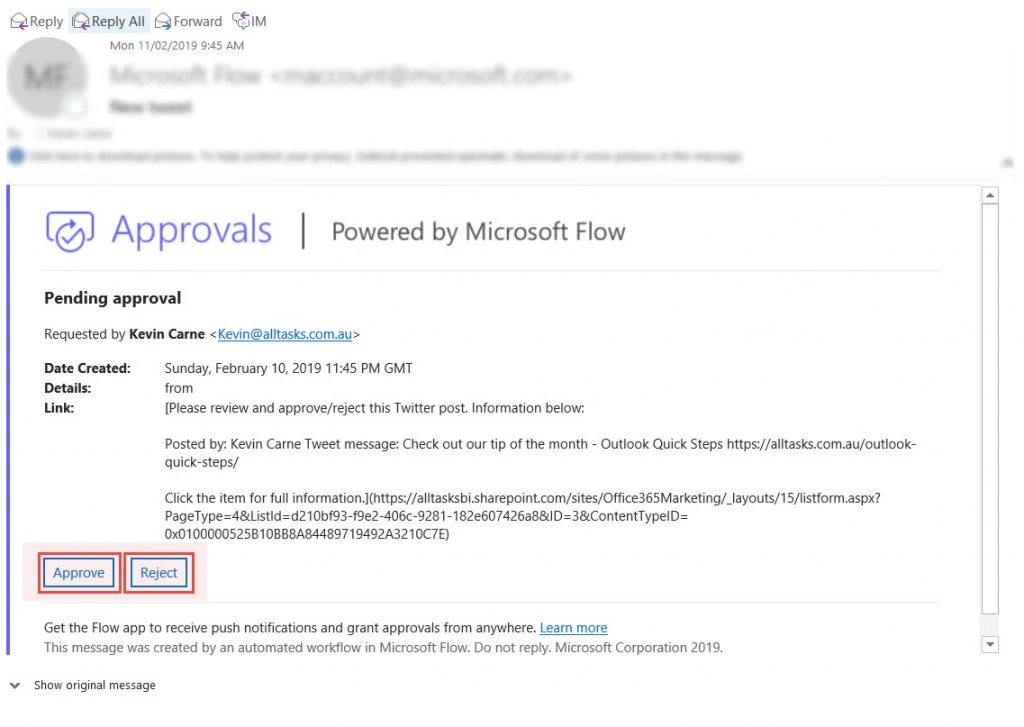 Here you have two options, Approve or Reject. Note the different paths created to automatically progress this request.

Tracking
Flow can provide a clear and concise summary on the status of each workflow request. Using the Flow approval centre the approver can prioritise and progress pending tasks allowing team members to do the same.