A dual monitor setup can increase productivity by as much as 40% when multiple screens are used – regardless of profession. Here are the main benefits:
a larger and more flexible visual workspace
ability to run multiple applications simultaneously
display critical information on one screen for reference purposes whilst accessing the second screen to complete tasks
easily compare files or data on side by side monitors
improved collaboration and communication – when one screen is running a video conferencing application, such as MS Teams Video call, and the second screen is simultaneously used to pull up and share files
attaching a larger monitor to a laptop can significantly reduce eye strain and help protect the health of your eyes
---
How to rearrange multiple displays on Windows 10
Tip: Before configuring a dual-monitor setup ensure the necessary cables are connected to the monitors and computer.
Click on the Windows Start button
Open Settings
Click System
Select Display
Note: Your PC should automatically detect your monitors and show your desktop.
If you don't see your monitors, select Detect.
---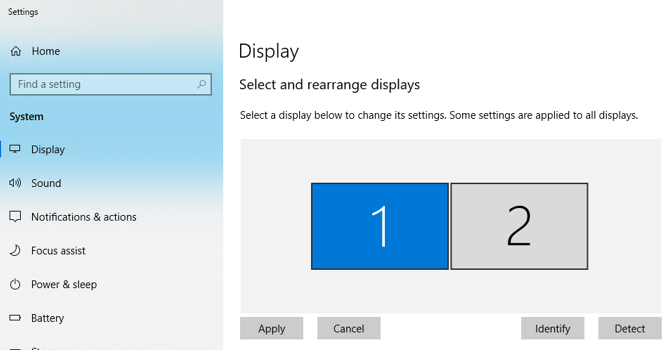 5. Under Select and rearrange displays, drag and drop each display and arrange according to the physical layout you want for your screens.
6. Select the monitor you want as your main display and check Make This My Main Display.
The main display contains the left half of the extended desktop. Apply the changes you want to keep.
---
How to set up multiple displays on Windows 10
Click on the Windows Start button
Open Settings
Click System
Select Display
Scroll down to Multiple displays
Select an option from the Multiple displays drop-down list to determine how your desktop will display across your screens.
Tip: For the largest work area, select Extend these displays.
---