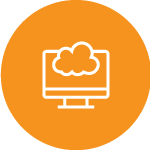 The Cloud is here to stay, and now is the time to start your journey into this technology.
Cloud Solutions designed to assist your IT Department
Trends come and go, but revolutions stand the test of time. The Cloud is here to stay, and now is the time to start your journey into this technology.
"Cloud Computing" refers generally to the delivery of hosted services over the Internet and encompasses an almost endless set of business possibilities: from server and file hosting to application hosting and end user computing. It has begun, and will continue to transform how organisations do business. The Cloud enables business to become more flexible and mobile and helps to relinquish some of the burden of IT systems' management.
alltasksIT's @Cloud Solutions can help your business transition to the Cloud – whether it be your entire IT operations (if suitable) or in a staged, or hybrid mode – with management and support offerings to ensure your users and business remain productive.
More about Cloud Solutions
With the evolution of cloud computing, the range of services which leverage the cloud is increasing exponentially, this provides a large range of opportunities for your business to benefit through improved efficiency and effectiveness of your IT processes.
Microsoft Office 365
Microsoft Office is the most prolific software within businesses across Australia, the key benefit of Microsoft Office is its ability to integrate with key software throughout the company. alltasksIT has a number of Microsoft Office 365 experts to help you maximise the potential of your Microsoft Office 365 usage.
Microsoft Azure
Microsoft Azure is Microsoft's cloud platform. Azure provides a combination of integrated services—including computing, storage, data, networking, and apps. AlltasksIT can assist you in creating a unique combination of managed and unmanaged services to let you build, deploy, and manage applications for increased IT productivity.
Backup to the Cloud
AlltasksIT can ensure the secure backing up and storage of your company or organisation's critical data. You can have the comfort of knowing that your data backup is being efficiently and effectively managed and that your data is being safely held in a remote server. We can offer this service for a fixed monthly fee.
Hybrid Cloud
alltasksIT is an established IT company based in Melbourne and is an accredited supplier to the Victorian government. We're perfectly placed to help your company or organisation take its next step. To discuss the benefits that hybrid Cloud computing can bring, please contact us now to speak to our friendly and helpful team.
Read more about how Cloud Solutions can help you achieve your business goals.
Want to know a little more? Have a friendly alltasksIT staff member contact you.