Today's modern business environments thrive on 'we-centric' work and technology has a huge role in bringing teams together to be more productive. Interactive displays play a vital part to support teamwork, either together in a shared meeting space or bringing people together from remote locations, enabling effective collaboration and improving team engagement.
Watch our Review Below:
Transcript from Video:
What is this kit going to do for you?
It has the ability to turn any boardroom, meeting room, office, or home office into a collaboration space and that ultimately means a better meeting experience. My favourite feature is you can walk into any room and join a meeting with one touch! Additionally, it will give you better video and audio quality, which will make your meetings more engaging.
Let's do a quick dive into some of the bar's features. Now, if you do want a deeper dive, along with some of the tech specs, do follow our socials as we will be posting a video on that within the next couple of weeks.
You can Join a meeting in a single touch.
Now I am sure we've all been to one of those meetings where you need to call in IT to plug in the cables, hooked the PC up to a TV and reset passwords (and everything else that goes along with that) – I have personally been to dozens of those!
Now the problem with that is that meetings either end up starting late or even worse they get cancelled.
Now, these meeting room systems are reliable because they don't rely on a PC. All the smarts are built into this bar right here and yes, you can join a meeting with one single touch from the touch panel and I think that is absolutely essential for any modern room meeting device.
As you can see, I have a few of meetings lined up here and when I want to join a meeting, I just simply hit start on the touch panel.
The Yealink A20 collaboration bar can be setup for both Microsoft Teams and Zoom, but unfortunately not both at the same time.
There are other models in the range that can be setup for Microsoft Teams, but also allow you to join Zoom and WebEx meetings from the touch panel, but these do require another piece of kit. Now if that is a requirement of yours, do reach out to us and we can speak to you more about those.
Once we have joined the meeting, all of the audio and video come from this collaboration bar. So that means, no cables running from the wall to the boardroom table.
So, once you are in a meeting you have all the same features as Microsoft Teams or Zoom that you normally would.
So, we can present our screen by joining the meeting from our laptop or by using an HDMI cable, if you have the collaboration hub add-on.
This A20 bar also allows us to join 2 screens in the boardroom. This means you can have your participants on one screen and a screen-share or digital whiteboard on the other.
You can mute, allow people to join the meeting and end the meeting all from this panel too.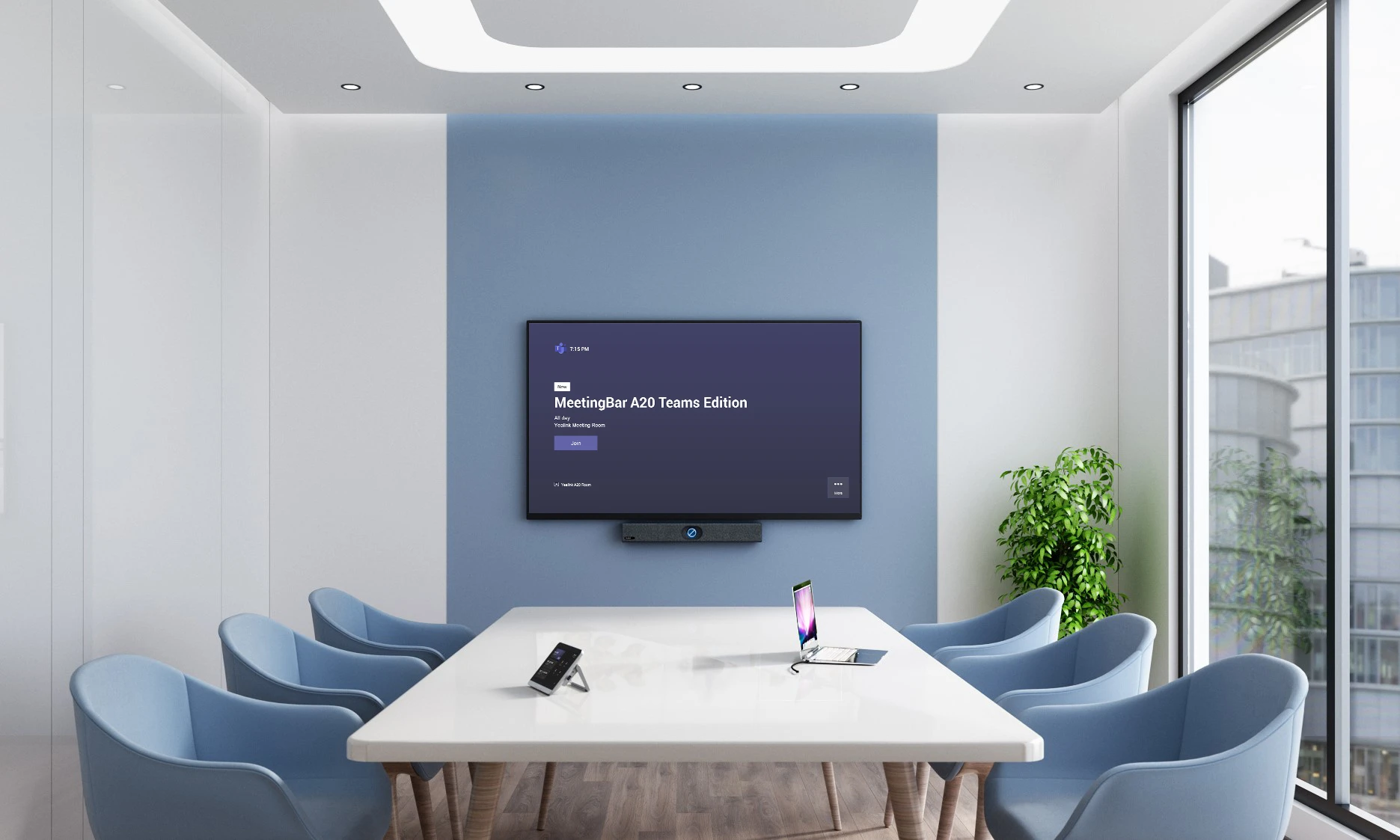 This kit is designed for small rooms and huddle spaces, and I think it works perfectly in rooms the size of a box all the way up to 5 meters by 5 meters.
If you do need something for different sized rooms, there are many options. Just ask us for more info.
In summary, the Yealink A20 kit is extremely good value, and it will greatly improve the meeting room experience.