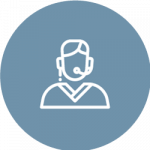 Providing Managed Services to Australia for over 20 years, we are the best in the industry.
Managed Services & Outsourcing
What happens when your email server goes down or your scheduled backups fail for some reason? Do your employees have to sit and wait for hours for an IT person to fix things?
If you take a purely reactive approach to IT, you run the risk of losing secure data and/or hours of productivity when something goes wrong.
Our certified Engineers and IT consultants in Melbourne can prevent and fix a wide variety of hardware and software issues. You'll also get professional advice on the right equipment and IT systems for your business which will help boost productivity.
Whether your IT department is under-resourced or your current IT support provider is letting you down, it's time to stop losing time and money in your business.
More about Managed Services
For over 20 years, alltasksIT has been working with companies like yours to improve the quality, security, safety and efficiency of your company's IT processes. Our aim is to draw on our extensive knowledge and experience to improve your company's IT whilst reducing long term costs associated with loss of data, inefficient software and hardware as well as ongoing staffing costs.
Our Managed Services Plans.
Want to know a little more? Have a friendly alltasksIT staff member contact you.