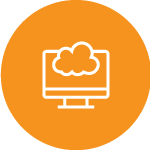 The rule of three
With the ever increasing threat of cyber attacks and the importance of data retention throughout you company, it is more important than ever to ensure your data is adequately secured and bucked up.
The best rule of thumb is to ensure your data is backed up in three seperate locations - this will ensure you have almost 100% secure backup plan.
This is of course, easier said than done! This is where Veeam Cloud Connect can assist, the new Veeam Cloud Connect software allows you to simply and easily create an offline backup of your existing Veeam backup software. This is great news for you, because it will save you time and ensure peace of mind with a simple, easy to implement system.
As a Gold Partner of Veeam, alltasksIT is here to help you make the transition to, or extend your current Cloud Backup Software to include Veeam Cloud Connect.
Virtual Systems Cloud Connect Offsite Data Backup
---
Easy to use
Fast WAN acceleration technology provides up to 50x faster replication with 20x less bandwidth consumption
---
You set your backup schedule
---
Single TCP port protected by end-to-end SSL encryption — no more VPN tunnels or dedicated repositories
---
Veeam-trained helpdesk support via phone or email
---
Supports large data columns with incremental backups
---
VMware and Hyper-V platforms supported
---
Easy to set up
Choose the amount of storage you need — and go!
---
Virtually no limit to the amount of storage available
---
No setup fee
---
No long-term contracts
---
No infrastructure maintenance, ever
---
HIPAA, PCI, SOC-2 and GLBA compliant
---
Register now for 30 Day free trial
---
Contact Us
How does Veeam Cloud Connect work?
VSystems Veeam Cloud Connect backups are located in geographically disperse data centers with state-of-the-art security, emergency power and redundant systems.
---
Frequently Asked Questions
---
Virtual Systems is a Gold cloud provider with Veeam offering cloud connect for Veeam Backup and Replication. As a service provider, Virtual Systems offers a secure, offsite repository to store your backups.
You need backups offsite to keep up with industry best practices and for total peace of mind. If anything should happen to your data onsite, an offsite backup allows you to restore from a clean backup and keep production moving. This is part of the 3-2-1 rule.
The 3-2-1 rule is, you need to keep three copies of your data, on two types of storage, with one copy being offsite. With Virtual Systems Veeam Cloud Connect you can accomplish the offsite backup at a low cost that is secure and reliable.
Yes, Virtual Systems Veeam Cloud Connect uses a SSL encryption from your site to our cloud to provide a secure tunnel for your data. The type of encryption used is AES 256. Your data is stored behind our professional, managed firewall.
As long as you need to. Virtual Systems Veeam Cloud Connect can store your data for as long as you need for maximum retention. Virtual Systems Veeam Cloud Connect repository is a monthly service for all Veeam Backup and Replication clients on version 8 or above.
There are multiple ways to recover your data from our cloud repository. You can elect to copy the media to removable media for pickup, delivery or shipping to your location. You can download the backup over a WAN connection for restoration. You can also choose to restore your VM to any of our secure data centers.
Yes, Veeam Cloud Connect is a service made available to customers who already have Veeam Backup and Replication. If you don't have this easy to use backup software you can purchase it from us by filling out the above form.
Yes, Virtual Systems employs multiple cloud connect gateways and multiple internal LAN connections to multiple repositories. With the added redundancy you can rest assured that our service is reliable to backup and obtain your data.