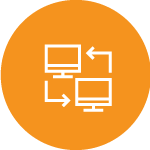 Network solutions to improve your it department
Get the most out of your network.
Let alltasksIT take the complication out of networking and security by helping you to design and implement an end-to-end solution which focuses on performance without compromising security. Our vendor agnostic approach allows us to make the right decision for your business.
From switching and network topology and design to VLAN's, alltasksIT can consult with your IT team to help improve the performance of your Local Area Network. We can also help design internal security policies and implement end-user procedural changes to ensure security practices are adhered to.
More about our networking services
AlltasksIT are experts in the provision, development and improvement of networks across the entire spectrum of network configurations. Here are some of the key areas where we can assist in improving your network.
Read more about how our Networking and Security services can help you achieve your business goals.
Want to know a little more? Have a friendly alltasksIT staff member contact you.