Include your most used functions as a button on your office Ribbon or Toolbar 
See below an example of how I have included   "Email as PDF Attachment" in the Office ribbon

I have also included an "attach and email" button on my Toolbar

This video shows how to add a function to the toolbar  –    

http://www.youtube.com/watch?v=avmTdFtll48
Keyboard shortcut for Resizing Windows – FOR Running Application Windows Side by Side or on multiple monitors
If you constantly re-position application windows around your one or multiple monitors by dragging and resizing try    "Windows Start Key" then  "Left" and "Right" Arrow and double click "Right Arrow"    – Then try Windows Start key and Up Arrow

This allows you to quickly position  one application on the second Monitor or second half of your one monitor  – great time saver
Outlook Preview Windows
I assume by now most users are using the Email Preview Window in Outlook to quickly scan and read emails?
 Also a good idea is to include your calendar and ToDo List in the preview pane.
Clear your inbox
Nothing wastes more time than constantly reading the same email time and time again – try to read it once  and action it or file it to be actioned another day  – either  convert the email to a task or calendar item and set a reminder or start date.
Use Junk Email for newsletters
We are receiving so many newsletters via emails these days and some companies are bombarding us with all sorts of offers and information
Consider using Junk Mail to automatically store these emails in the junk mail folder and set a time to read them once a week or month etc.
Right click and email and select add sender to Junk – note all emails from sender will now go direct to this folder
You could also use outlook rules to only send some emails from a sender
Create Outlook Rules if you are constantly forwarding weekly emails to other users
Outlook Show as Conversation  – try this view if you like the way you iphone presents related emails
View menu – select Show As Conversations  –  and just select this folder
Use Outlook Signatures for common text you include in your emails 
 

(eg. Thanks for your email I will get back to you soon)
PRESS CONTROL F1 TO HIDE THE RIBBON BAR TO GIVE YOU MORE ROOM TO READ AND EDIT A DOCUMENT
MS WORD -Insert – Screen Shot
You will love this function if you constantly insert screen shots into documents
Consider using Outlook Quick Steps to automate a series of tasks like moving email to a sub-folder – forwarding emails
How to video:
 http://office.microsoft.com/en-au/outlook-help/video-simplify-repetitive-actions-with-quick-steps-VA101822262.aspx?CTT=1&client=1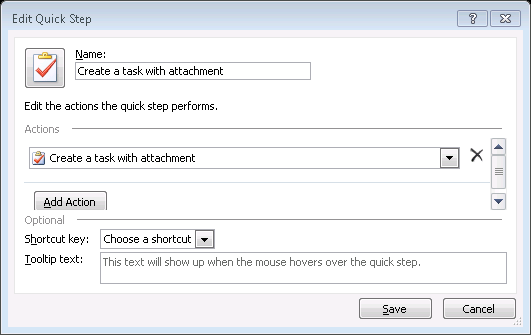 Look at themes in Word – Page Layout – to help with formatting documents

Create and use Templates