Walkie Talkie in Teams
Two billion workers around the world are about to transition to the digital transformation. So, what does this mean for you and your business?
Productivity has so far focused on personal productivity, supported by a horizontal technology framework for all types of information workers, such as admin staff, executives and the like.
Now this is about to drastically change. To stay ahead you need to understand how Organisational productivity can pull together the whole group, making it more than the sum of all its parts.
Firstline workers are where the value is being created
Firstline workers are the people that produce the customer experience for your organisation. They are more than just frontline staff; they are of very high value to your business, possessing specific capabilities and unlocked potential.
You'll find them, behind the counter of a café or restaurant, in the operating room of a hospital, on the factory floor, and out on the tarmac. They are first with customers, first with products, and first to represent your brand. Now they are all set to take on technology that will transform Organisational productivity worldwide.
Empower your Firstline Workforce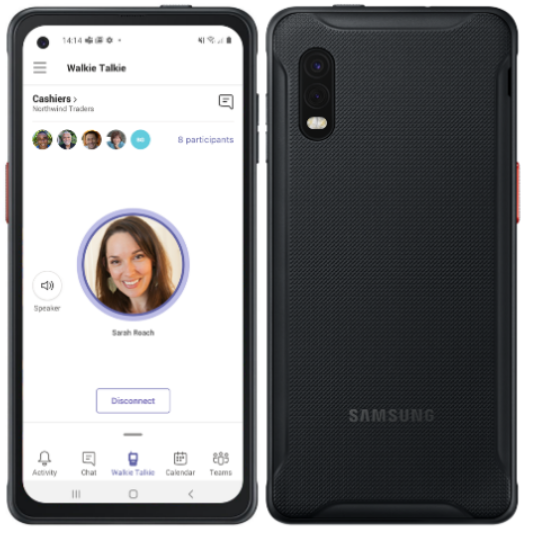 Employee- or company-owned smartphones & tablets can be used as a Walkie Talkie
Teams is the platform that connects everyone in an organisation, from the shopfront all the way to the top floor. Firstline Workers already use tools like Microsoft Teams and Power Apps to digitise shift schedules, take meetings from anywhere, and simplify workflow.
New tools within Microsoft 365 makes it easier for Firstline Workers to communicate and manage tasks. They can have confidence in the security of their organisations and customers data.
Walkie Talkie in Teams: Functionality that's Secure, Economical and Instantaneous
This new push-to-talk experience enables clear, instant, and secure voice communication over the cloud. It reduces the number of devices employees carry, potentially lowering your IT costs.
Analog devices can transmit sensitive information over unsecure networks. Walkie Talkie works over Wi-Fi or cellular data, so customers will no longer worry about crosstalk or eavesdropping from outsiders.
The Walkie Talkie capability can be used across geographic locations and will soon be available in the Teams mobile app. It will integrate with the newly unveiled Samsung Galaxy XCover Pro, a device built for workers on the front lines of any industry.
If you would like more tips that will drive higher levels of employee engagement and enhance customer experiences, go to Microsoft Teams updates.
Want to know more on how to empower Firstline Workers to gain a competitive advantage?
See the latest research by Harvard Business Review Analytic Services on the untapped potential of Firstline Workers in retail.
Walkie Talkie will be available in private preview in Microsoft Teams in the first half of 2020.